Meet the Taylor Studwelding Team: Stephanie Armstrong
Member News
In 1994 Taylor Studwelding Systems Limited hired Stephanie Armstrong for the role of Export Sales Assistant. Whilst working in this position, using the skills gained from her degree in International Business Studies, Stephanie was able to develop a large network of agents and distributors worldwide, thereby promoting the Taylor brand globally.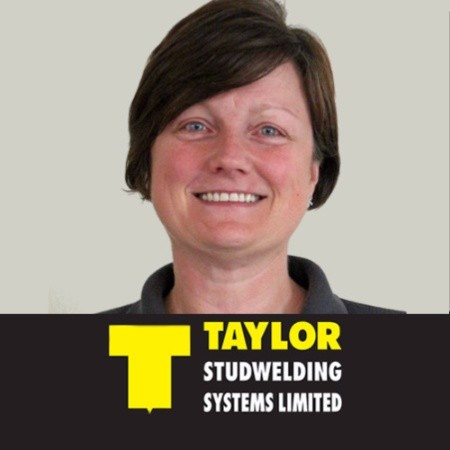 Six years later, after extensive research into the Asian market, Stephanie travelled to China on a trade mission. During the trip, she met Jimmy You who was already working within the welding industry and had a very sound knowledge of the intricacies of Studwelding. Jimmy later became an employee of Taylor Studwelding Systems Limited, working as their representative in China.

Following several years of hard work developing the Taylor name in China, Taylor Studwelding opened a Head Office and small manufacturing plant in Shanghai. The plant has gone from strength to strength and, along with offices in Guangzhou, Ningbo, and Beijing, now employs over 30 staff producing stud welding equipment for the Asian market.

Stephanie is now the sales director. In addition to developing sales in new markets, she now oversees the sales and account management teams and conducts client presentations. Her responsibilities include managing costs, projects, logistics, and operations.

Stephanie commits to providing an outstanding level of quality to all her clients, whatever their requirement is. Her extensive knowledge acquired over the decades of all types of welding machinery, weld studs, and engineering enables her to answer any queries and provide sufficient guidance on any product from weld studs through to complex CNC systems.
In her 26 years working with Taylor Studwelding, Stephanie has transformed our sales processes, opened the company up to a huge range of new international markets, and enabled us to be a long-established leader in our industry both in the UK and worldwide.

About Taylor Studwelding

Taylor Studwelding Systems Limited was established in 1984 by David Taylor and his wife, Joan. The company has since gained its position as the UK's leading designer, manufacturer, and supplier of stud welding machines, weld studs, and accessories. Taylor Studwelding offers a diverse range of equipment, including lightweight and easily portable systems, handheld welding systems, and fully automated bespoke CNC machining.

The business supplies welding equipment internationally to Europe, Russia, China, the USA, Australia, and South Africa. For more information on the stud welding services, get in touch with Taylor Studwelding via phone or email.